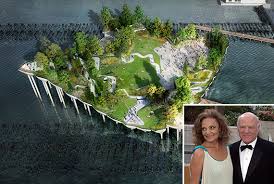 ***
(Note: This entry was originally posted prior to a series of judicial rulings in 2016. Those rulings included a New York State appeals court injunction halting further construction of the project. That decision was subsequently overturned and construction is again underway.)
***
They say history is written by the winners. This blog entry may not matter much in the end, therefore.
This summer, construction is slated to begin on Pier 55, a two and a half acre futuristic park development on Manhattan's west side. It will "float" above the Hudson River, seated atop dozens of piles driven deep into the bedrock below the murky, slowly remediating waters that run between New York and New Jersey.
As parks go, there is little doubt that the $130 million project will become one of the most innovative designs, nationally and internationally. In fact, the development is so space-aged, many critics have characterized it as a "pipedream," a "vanity," a brainchild of a bored billionaire, Barry Diller, and his celebrity accomplice, Diane Von Furstenberg.
Nevertheless, and notwithstanding an impressive David vs. Goliath struggle to slow down the development, Pier 55 has garnered approval from the local community board, a host of elected officials, including Mayor Bill de Blasio and Governor Andrew Cuomo (who rarely agree on anything these days), the courts of law and, most recently, the Army Corps of Engineers, which gave its blessing about a month ago.
For all intents and purposes, that Corps' approval finally clears the way for the project to be built.
Hardly the stuff of legend, the story of the project—its raison d'etre and the controversy that surrounds it—bears some mention. It's easy enough to look up the development in the newspapers, which is what I had to do, owing to the deep secrecy that clouds the backstory behind this unique scheme for a public park.
In 2012, representatives of the Hudson River Park Trust approached Diller and Von Furstenberg, hoping to attract financial support to rebuild the defunct Pier 54, which sits on the Hudson near the West Village. The billionaires' enthusiasm for that terribly deteriorated waterfront parcel was modest, to say the least. However, these would be philanthropists hatched an alternative idea for a park o'er the water. It would replace the Pier 54 altogether. The two charmed representatives of the Hudson River Park Trust (the group charged with developing the pier) whipping up an impressive model, built largely to scale and skillfully displayed at a well-appointed estate on Long Island.
Here was "Pier 55." The project would be privately financed for the most part, with modest infrastructure investments by the City of New York, valued at $17 million (though many challenge the accuracy of that figure). Diller and Von Furstenberg themselves would raise $113 million, calling on their friends from Hollywood and the music industry for the remainder, bundled under the auspices of a nonprofit organization created for this purpose. There would open spaces for recreation, and there would be spaces for programming, such as a concert stage for paid performances.
No surprise, perhaps, a brouhaha erupted when neighborhood organizers and municipal advocates, most notably the City Club of New York (a civic organization that did battle with Robert Moses in the 20th century) raised objections about the secrecy surrounding the fundraising scheme and the hastiness and absent integrity of the environmental review process. They also attempted to call attention to the dubiousness of building a new project while half of the Hudson River piers languished in ill repair. They were no more enthusiastic about the paucity of community input into the park's design and programming features. Finally, they expressed intense skepticism about how publicly accessible a privately-financed park will be to people unable to foot the bill for classical music concerts and other ticketed events. These occasions will represent no less than 49% of the "public programming" on the park parcel above the water.
In other words—and quite aside from the potentially devastating impact on improving ecosystems in the Hudson River, specifically, a returning estuarine that will likely be obliterated when the pile drivers hit the bedrock that must gird the project—a serious question had emerged over how public this public park would be after its construction. Let's face it, notwithstanding the philanthropic motives for building a public place, when something is developed privately, an impressive menu of exclusions becomes possible, at least, if it does not turn into the order of the day.
No doubt, there is a legal doctrine that will stand private developers up if and when they exclude publics from the park: the state action doctrine—a miserably convoluted doctrine that ultimately protects the right of private property owners to exclude unwelcome activities when they see fit to do so. This doctrine is quite central in the story I attempted to tell in PUBLIC SPACES, MARKETPLACES, AND THE CONSTITUTION.
While state action was never invoked in the legal proceedings over the park development, a City Club lawsuit was nevertheless dismissed last month. The Club was unable to persuade the courts that the Hudson River Park Trust misled the State and City during an unusually abbreviated approval process. Nor were they able to successfully make the case that harmful environmental impacts may be embedded in the project design.
Thus, Pier 55 will be built. And it may indeed deliver an array of public benefits ballyhooed by its supporters. Still, I think some intense scrutiny will be merited in terms of the park's programming. When it comes to accessibility and enjoyment, for example, will park permissions be unfettered? Will Pier 55 be for everybody?
We may not know until the "Rules of Use" sign goes up. If the history of this development proves to be a guide, then decisions about public access and permissible activities are going to be made in private. This is the point I wish to emphasize, since I don't yet know how I feel about Pier 55 as a public good. Even if the project's detractors are wrong, that is, even if the park is fully accessible and enjoyable to publics across the City—as opposed to becoming an exclusive (and exclusionary) haunt of wealthy New Yorkers and tourists able to afford its programming—I hope this development will animate new, critical thinking about the privately financed provision of public goods. In a climate of government austerity, where funding is frequently withheld from parks and other amenities that are vital to our public sphere, we have turned to conservancies and other artifices to build and sustain our shared spaces.
It wasn't always this way, though. And while I don't want to idealize the past or cling to thinking that may be outdated by the sorts of political conditions that gave birth to the Hudson River Park Trust and its older cousins in Central Park, etc., I am concerned that we are becoming unwilling to inspect the "market as prison" dynamic once described by Charles Lindblom. In assessing how contemporary public policy is made, Lindblom expressed concern that we have systematically foreclosed all but the most capitalistic solutions to public problems. And, yet, there are public goods that the private sector cannot provide in the final analysis.
Whether or not Diller, Von Furstenberg and the private people in charge of this public good will tightfistedly "control the key" to Pier 55, as one online critic recently decried, we appear to have locked ourselves into place-making schemes that summarily exclude government investment and robust public input. Maybe that's just how it is these days. However, I hope we can take stock of what's been built through public investment in this United States, as well as how curative that type of investment has been throughout American history. Public Works Administration projects of the New Deal era were certainly as impressive as Pier 55. They also put millions to work, helped create a middle class, and delivered so much of the vital infrastructure that we depend on today. Great Society programs in the 1960s extended that prosperity to Americans of more diverse backgrounds, while offering political roadmaps for social inclusion unwitnessed in this nation.
I'm quite sure I'll go to Pier 55 when it's finished. I may even wind up liking it as much as I like the nearby High Line. At the same time, however, I anticipate a more than mild unease about who or what the park is for. That unease stems not only from its private development, but from a planning process that was conducted at light speed, with little to no opportunity for public input.
When a place such as a park is designed and/or treated like someone's living room, the values of exclusion traditionally exceed those associated with public, practicable space. I think we need to guard against this equation, going forward.