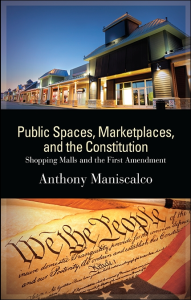 FROM THE BACK COVER:
In spite of their public attractions and millions of visitors, most shopping malls are now off-limits to free speech and expressive activity. The same may be said about many other public spaces and marketplaces in American cities and suburbs, leaving scholars and other observers to wonder where civic engagement is lawfully permitted in the United States. In Public Spaces, Marketplaces, and the Constitution, Anthony Maniscalco draws on key legal decisions, social theory, and urban history to demonstrate that public spaces have been split apart from First Amendment protections, while the expression of political ideas has been excluded from privately owned, publicly accessible malls. Today, the traditional indoor suburban shopping mall, that icon of modern American capitalism and culture, is being replaced by outdoor retail centers. Yet the law and courts have been slow to catch up. Maniscalco argues that scholars, students, and the public must confront these innovations in commercial design and consumer practices, as well as what they portend for contemporary metropolitan America and its civic spaces.
A volume in the SUNY series in American Constitutionalism Robert J. Spitzer, editor
---
TABLE OF CONTENTS
Acknowledgments

Introduction

Built Environments and the Public Sphere

Public Space as Democratic Practice: A History

The Public Forum Doctrine versus Public Space

Closing the Commons in American Shopping Malls

Toward a Second Chance for the First Amendment in Third Spaces

Notes

References

Table of Cases

Index
---
PURCHASE THE BOOK
---
ABSTRACT
This book explores long term tensions between public spaces and private property. Those tensions have led to many contests over political expression in privately owned, publicly accessible marketplaces in the United States. Can American market hubs function as marketplaces of ideas? Should they be legally required to do so? In order to examine those questions, this book surveys cases involving expression on public and commercial property, including shopping malls.
Combing literature from multiple disciplines, the book begins by developing benchmarks of public space as well as remarking on the challenges for widespread inclusion inside the modern public sphere. Next, it surveys peoples' expressions of public space in marketplaces, including protest. These expressions reveal historical contests over mixed uses of urban place, as well as dialectical interplay between embodied spaces, the publics who inhabit them, and the civic capacities they attempt to build therein. As the era of American suburbanization unfolds, spaces, spatial practices, and legal interpretations transform significantly, and private places are excluded from public uses.
We remain a suburban nation in many ways, as the most recent Census shows. And it is possible to argue that the decline of urban public space has negatively impacted civic engagement in the metropolitan United States. While many scholars agree that political participation has diminished during the last 50 years, the role of the law in preventing access to public spaces demands further attention.
This study combines social theory with case studies of judicial decision-making. It historicizes the contest over practices and exclusions of public space. It focuses on the way in which constitutional interpretations have conditioned the relationship between marketplaces of goods and marketplaces of ideas. It traces the development of the Supreme Court's public forum doctrine and regulation of political expression on government-owned property. Then it details the High Court's rulings on free speech and assembly inside suburban shopping malls. The Court initially required expressive access in malls. However, it later excluded that access and denied First Amendment protections to speakers and audiences, on behalf of private property rights. This book surveys that shift in detail.
After examining the way in which Supreme Court precedents have been construed in two states, New York and New Jersey, the book argues for First Amendment protections of expressive space inside privately owned shopping centers. Today's suburbs are shaped by greater demographic diversity than ever before. Not unlike their urban predecessors, new suburbanites require publicly accessible spaces, where they can articulate and negotiate ideological differences. At the same time, older shopping mall developments face serious financial challenges in the 21st century. New Urbanist models are supplanting them in many cases. These innovative formats are often retrofitted with the kinds public spaces that once accommodated expressive freedoms. As legal contests surface in these new metropolitan spaces, future interpretations of free speech and assembly in suburbs will no doubt reflect the rulings examined throughout this manuscript. The study looks beyond a zero-sum game between property and space. It proposes a more inclusive view of commerce and commonality in places where publics gather.